Welcome to Seoul – Leave your shoes at the door
After a few days here in South Korea, here are a few first impressions. Seoul is a much larger city than we had imagined, but very nice. The subway system is very extensive. It is the second most used (highest ridership) subway in the world. The architecture in the city is very modern and unique and we really like it.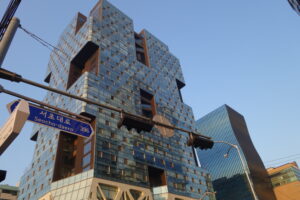 One of the customs in Korea is to leave your shoes at the door and exchange them for slippers. There are always several pairs of slippers waiting by the door. This custom arises from a long history of the ondol heating system (since 1000 BC!), where raised floors were heated by a woodstove-provided underfloor smoke passage. The smoke passing below the floor would heat stone tiles which would hold the heat well. Virtually all Korean homes still have heated floors, but now they are heated via hot water flowing through a matrix of pipes below the floor. Having the heat in a room come from the floor encouraged people to do many of the days activities on the floor. As such, historically and today, many Koreans eat, sleep, and hang out on the floor (with cushions, of course). A person would therefore keep their floors very clean, facilitated by wearing clean slippers. Visiting palaces and other establishments displaying life of the upper class, you do not see fancy furniture- beds, couches, etc. because they didn't make sense in this context. Furniture would keep you away from the warm floor.
We've also toured some of the royal gardens, tombs, and temples constructed in the traditional style. More on that later; but here are some representative pictures in the meantime: